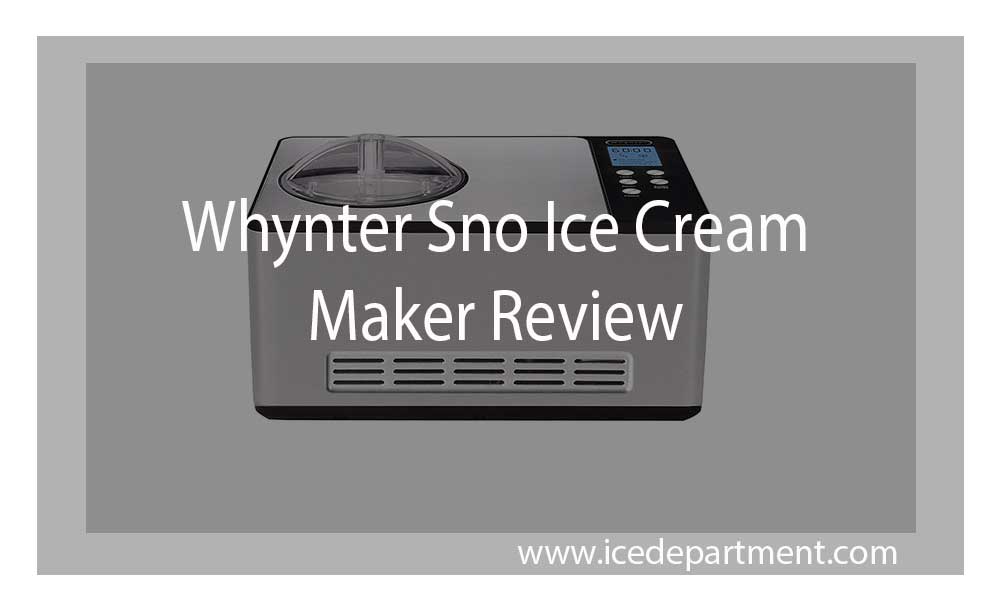 Just so you know, Ice Department is reader-supported. We may earn an affiliate commission, a share of sales or other compensation when you buy through links on our site. Read our affiliate disclaimer below in the footer.
Just about everyone loves a good bowl of ice cream, but you don't always want to travel for it. When you're snuggled up at home, you might crave ice cream without wanting to take the drive to the store to get it. Even more so, it is important to know the ingredients of what you're eating. So, why not make your ice cream at home?
There are plenty of ice cream makers on the market, but how do you know which is best? Here we take an in-depth look at the Wynter Sno Ice Cream Maker to help you decide whether or not this is perfect for you.
Wynter Sno Ice Cream Maker
This product from Whynter is a self-contained dessert maker of all things frozen. There is no pre-freezing required so you can enjoy your treat faster, and it will taste better as well.
This model includes plenty of premium features that you won't find in most other ice cream makers. Its design is sleek and neutral and will look great with nearly all modern décor.
Who Is This Product For?
This appliance is really great for anyone who wants to be able to make their frozen treats right at home. You never have to guess what ingredients have been used on your dessert, and you'll be able to control every aspect of your frozen dessert. You may choose never to buy outside ice cream or frozen yogurt again.
One thing to keep in mind is that you may want to be home when the mixture is complete. This product will keep the mixture frozen, but it will also lock the paddle right in the ice cream. It is often easier to just be there when it completes.
With that said, this product is ideal for someone available and at home when the dessert is being mixed. You may not want to leave it to finish on its own while you go out.
What's Included?
With this product, you receive just the ice cream maker. You'll just need to add your ingredients, and of course, you will need a good amount of ice to make your ice cream. If you are looking for a high-quality ice maker, we have reviews available to help you make your selection.
Overview of Features
The Wynter Sno Ice Cream Maker offers the following:
You don't need to pre-freeze this maker before making your treats, which is a huge advantage. Many other models on the market require that you pre-freeze the maker before you use it. Not having to do so saves you time and effort, and you don't have to plan ahead to make your frozen treat.
It includes a built-in compressor that allows continuous use. You can easily store and clean this ice cream maker, given the removable churn blade and bowl.
There is an audible timer built right in, and the motor shuts off if the mixture freezes through to solid. This can help prevent any damage from taking place. The housing part of this ice cream maker is also made from stainless steel for added durability.
The Wynter Sno Ice Cream Maker will yield 1.6 quarts of frozen dessert. Make not only ice cream but gelato, frozen yogurt, and sorbet, as well. You do have to be careful with how full you make the canister. It seems that if you fill it close to the top, or even ¾ to the top, the consistency of the ice cream or other frozen treats really suffers. That said, you won't necessarily encounter any malfunctions.
One drawback of this model is that it does take up a good amount of space on your countertop. You likely won't want to leave it out when you aren't using it unless you have enough space to spare. This can be cumbersome if you have to take it out and put it away with every use.
Pros:
Very well made

Powerful compressor

Shuts off automatically
Con:
Takes up a lot of counter space
Tutorial
This ice cream maker is pretty straightforward and quick to use. However, it does offer some rather premium features that you might not be accustomed to if you've used more budget-friendly ice cream makers in the past. Nevertheless, you can get a good idea of how it works here.
Alternatives
The biggest drawback to this ice cream maker is that it takes up so much real estate on your countertop. For an occasional appliance, that isn't really practical.
It also doesn't make all that much ice cream for the amount of space it uses. Some models make more ice cream but still somehow take up less space.
With that said, there are plenty of options available that take up less space on your countertop, while still making a comparable amount of ice cream. One of these is the Cuisinart ICE-211.5 Quart Front Yogurt/Ice Cream Maker.
This model comes with a three-year limited warranty and makes up to one to 1.5 quarts of dessert. The freezer bowl is double insulated, so you don't even need ice.
This model also counts down on any mess, given that it comes with a transparent lid and large spout. Add your ingredients easily and without spilling.
Another unique option is the Cuisinart ICE-45, which offers a completely different design. This option has an easy-lock lid, a mixing arm, and a 1.5-quart freezer bowl.
There are also three condiment containers so that you can add your chosen toppings. In addition, there is a cone holder and an off-and-on power dial. This machine is fully automatic and makes soft-serve ice cream in a very little time. Also included is an instruction booklet and recipe book.
Conclusion
The Whynter Sno Ice Cream Maker is an excellent option for anyone who wants to set their ice cream to mix and be able to walk away. It offers some premium features you won't find anywhere else.
While it takes up a lot of space, you'll need to decide how important that is to you. If you'll only be using it occasionally, maybe you don't mind taking it out each time.
However, if you want to use it more frequently than that, you may not want to have something so big on your countertop. In either event, this ice cream maker is powerful, mixes quickly, and is very easy to use.