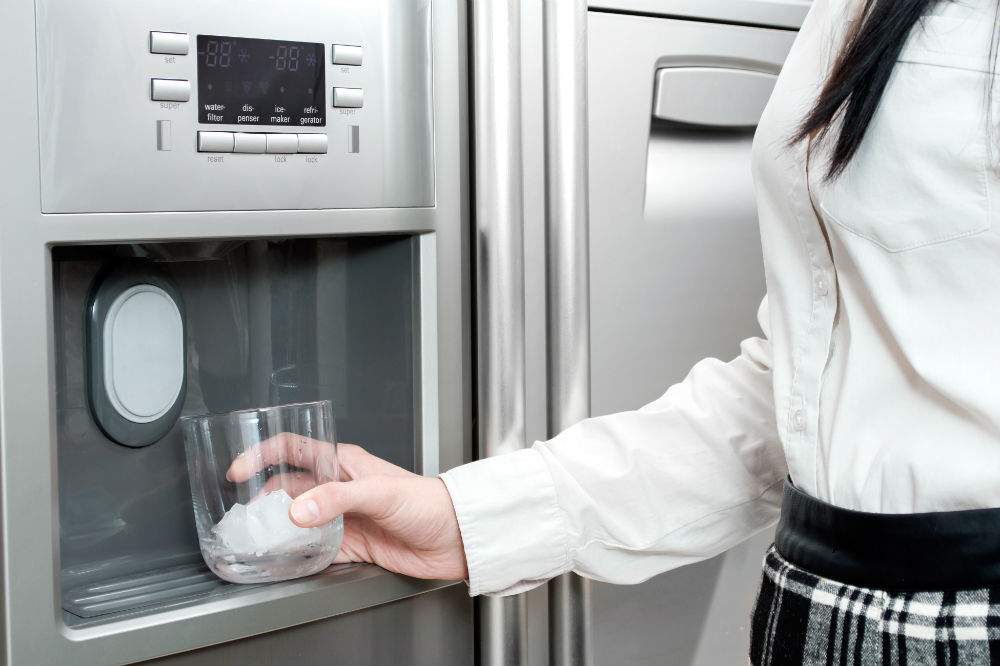 Just so you know, Ice Department is reader-supported. We may earn an affiliate commission, a share of sales or other compensation when you buy through links on our site. Read our affiliate disclaimer below in the footer.
Let's face it: we've all had those scorching summer days when a guest turns up, and there's no ice in the freezer. Even if you're lucky enough to have avoided that, how many times have you run to the local store for some ice cubes, and found out they had none?
The solution? Get the best home ice maker for yourself!
Home ice makers have amazing fast-freezing technology which helps you produce ice faster than in your freezer. However, you'll have to choose a reliable brand to make sure you get good ice every time.
Best Home Ice Makers
Comparison Chart
KUPPET Portable Ice Maker
Igloo ICEB26RR Ice Maker Machine
Frigidaire EFIC108-SILVER Ice Maker Machine
Tavata Ice Maker Machine
Aicok IceMaker
Best Home Ice Makers Reviews
1. KUPPET Portable Ice Maker
KUPPET is a reliable home appliance company, manufacturing its products in Oslo, Norway. They construct their appliances with a concept of innovation and environmental conservation.
Product Highlights
The KUPPET ice maker is nicely constructed and has lots of accessible features. Its quick-make technology produces about nine ice cubes in 10 to 15 minutes, which means almost a pound of them in an hour. Thus, you can whip up ice-cold drinks even on short notice.
Besides that, the machine requires less energy to cool its contents as compared to normal freezers. Additionally, the design is compact and stylish. It's small enough to fit any space on your countertop without looking bulky or out of place.
Moreover, it's also smart when at work. It has a water shortage notification timer, which alerts you whenever the machine needs refilling. It also has a small, transparent viewing window, which helps you keep a check on the ice cubes as they freeze.
Also, if you're a newbie and can't figure out how much water to add to the freezing containers, the light indicators will show you when the chamber is full.
The Good
This ice maker has a good compressor. It works fast and produces good quality ice in minutes. The best part is, it works quietly, so you can enjoy a peaceful environment while sipping on your cool drink.
It's also great that it's energy-efficient, which makes it go light on your pocket and the environment. The company is also ETL certified and provides technical support.
The Bad
On the downside, the ice maker is designed to make ice, but not to retain it. This means, once the ice is made, you have to use it immediately or it will eventually turn into the water again.
The brand does offer a refund policy for 90 days, but unfortunately, some customers say that the company is not very responsive to this point. In short, if you get a defective machine, then you might be stuck with it.
2. Igloo ICEB26RR Ice Maker Machine
Igloo is a high-end manufacturer and distributor based in North America and Europe. Since 1947, the brand has been producing high-quality home appliances, and the ICEB26RR ice maker is one of its most popular products.
Product Highlights
This ice maker is functional and convenient enough to serve your ice making needs whenever you need it. It has a commendable ice making capacity of almost 26 pounds a day.
This means you can enjoy ice-cold water all day long, and entertain guests as well if needed. Additionally, the machine is fast. You can easily get a batch of nine solid ice cubes in only seven minutes.
The machine is also well constructed. It's lightweight, so it's portable for outdoor use as well. It is also sleek and compact, so you can place it anywhere on your countertop, without using lots of space. Similarly, it sports a red metallic finish which looks elegant and sophisticated with almost any kitchen design
The Good
This ice maker has lots of accessible features that we love. Firstly, the clear, illuminated control panel has an intuitive design that guides you through all the controls. This way, you can operate it easily, even if you're a newbie.
The panel also gives out vibrant alerts in case the machine needs water or if your ice is ready, so you can enjoy a concern-free experience.
Secondly, the machine has a transparent top and a viewing window. As such, you can watch and regulate the ice-making process at every stage. Also, you can store about two pounds of ice in the machine at a time.
Thirdly, the machine is versatile and has multiple settings for different kinds of ice. You can make rock-solid ice for drinks or crunching ice that you can bite into if you love to eat ice on its own.
The Bad
The downside with this unit is somewhat the same as the former. It cannot store ice cubes for long intervals. You'll have to take it out and store it in your freezer if you don't intend to use it right away.
Apart from that, the machine is expensive. Compared to other brands from its league, the market popularity and reliability of this brand make the product a bit pricey for low-end buyers.
3. Frigidaire EFIC108-SILVER Ice Maker Machine
Frigidaire is a USA-based home appliance and consumer goods company. As a subsidiary of a well-known European company in the USA, it aims to provide high-quality solutions for the everyday needs of its customers.
Product Highlights
This ice maker by Frigidaire has high speed and capacity for efficient ice making. It can store and make up to 26 pounds of ice a day. Also, it's amazingly fast, so you can get a fresh batch of ice every six minutes, which is great for when you're hosting parties and need an unlimited supply of ice.
Besides that, it's portable and lightweight, so you can carry it around with you on picnics and camping trips. The machine is also durably constructed out of stainless steel and has a sleek and stylish look. You can set it up anywhere on your kitchen countertop, without giving it a second thought.
This ice maker is also highly accessible. It's easy to set up and use, so you can begin to use it as soon as you unbox it, even if you're a first-time user.
Similarly, it has a transparent window that lets you observe the process at every stage. It can help you figure out the remaining time, and it's also fun to watch while it makes ice.
The Good
This ice maker has some benefits that make it a worthy purchase. It produces high-quality, crystal-clear ice. Usually, industrial ice makers use chemical refrigerants which produce opaque, white ice. That's not good for your health or the environment.
Another great thing is that the compressor on this machine works to speed up the natural process and give you healthy, clear ice. This product also comes in a range of colors to choose from.
That way, you don't have to settle for a single color, you can buy what fits your decor. It also comes with an accessible shovel to unload and clean the machine.
The Bad
The machine does not automatically restart or resume its work. This means if the power goes off, the machine won't continue making ice unless you restart it from the first stage.
Also, you cannot keep the ice inside the machine for long, or it will start melting. The ice, once melted, cannot be frozen again as the water goes into the reservoir, so it will need to be refilled with water.
4. Tavata Ice Maker Machine
Tavata is another well-known, reliable brand when it comes to home appliances. They produce high-quality products that serve consumer needs at affordable prices. Its versatile ice maker is no exception.
Product Highlights
This ice maker produces the perfect ice you need for parties and get-togethers, in almost no time. It takes about eight to nine minutes to produce one batch of ice.
The ice cubes are frozen in a tubular form, without any harsh edges or corners. This feels smooth and luscious inside the mouth. Also, the ice is hollow from the middle, which makes it float over your drinks.
Additionally, the machine is constructed with the latest technology. The automatic, smart design requires no expertise to use, so you can begin right away. All you have to do is turn the machine on, fill it with water, choose your customization settings, and you're done.
It also has a clear LED control panel that makes the process easy to understand. It also gives out alerts if you're doing anything wrong or the machine needs to be refilled.
Apart from that, the ice maker is light and portable. You can store it anywhere in your house, and carry it around with you when needed.
The Good
This model has some great benefits! Firstly, it has an automatic shutdown system. The machine automatically turns off when the ice is made or when it needs to be refilled. This saves energy and prevents any potential accidents around your kitchen.
Secondly, this machine has an exceptional cleaning system. Perfect for places with hard water supply, it does not let minerals and impurities stick inside the system.
You don't need any equipment to clean it as well. Just add some water and select the required functions, and the machine will take care of itself.
The Bad
There are not many bad aspects of this ice maker. Although if you have a family of frequent ice users, this ice maker might be small for you. Another issue is that you cannot keep the ice inside the machine for long because it will just melt away.
Additionally, it makes a funny noise when starting up. It doesn't matter much, but it can be an annoying deal-breaker for some people.
5. Aicok Ice Maker
Aicok is a reputable home appliance provider in North America and Europe. With an in-depth understanding of the consumer needs in that area, the brand aims to provide accessible solutions to everyday requirements.
Product Highlights
This ice maker by Aicok is fast and functional. It can produce about 12 kgs of crystal clear ice cubes every day. Also, you can get a single nine-cube batch in only six to twelve minutes.
The compressor works fast but does not use as much energy as its contemporary models. Also, the operation is completely noise-free, so it won't disturb you if you have it around in your meetings or get-togethers for refreshing, cool drinks.
The machine also does not use any chemical refrigerants, which means the cubes are healthy and clean. Additionally, it filters out any impurities in your water and cleans itself up automatically. This keeps your machine safe to use at all times, without any extra hassle from your side.
Moreover, the ice maker is constructed with cutting edge technology, making it accessible and easy to use. You can store it anywhere, and carry it around with you when needed. Also, it has an LCD control panel with clear, visible lights to guide you through the process.
The Good
The best part about this ice maker is the cleaning system. All you have to do is add some dishwashing liquid and water into the system and select the required options. The machine effectively cleans any scaly dirt, slime, and mineral accumulations caused by frequent water exposure.
Another great aspect is that it's safe and durable construction. Completely made from stainless steel, it's sturdy and prevents any harmful material from entering the ice chamber. Also, the scoop and ice basket provided are made out of safe, BPA-free materials.
The Bad
On the downside, even though the machine is quiet during operation, the alarm is unnaturally loud. What's worse? It does not turn off after you open the machine to collect the ice, which can become very annoying.
Another disturbing thing is the illuminated brand logo at the front. The light is enough to keep your kitchen lit during the night which can be irritating for some users. Apart from that, the timer on the control panel is a little unreliable.
Buyer's Guide
Now that you have some insight into the types of ice makers available in the market, you're probably sure which one you want to buy. If not, don't worry at all. Here's some hands-on information on what you need to look for in the ideal ice maker for you to make a good purchase.
1. Design
The first thing you'll need to look for is the design of the ice maker. There's no use buying a bulky machine that won't even fit on your countertop, right?
Thus, assess the space you have in your kitchen. After that, look closely into the dimension and size details of the product you're about to buy.
The design details matter as well. Many ice maker models come with a choice of color, so you can choose the one that matches your decor.
2. Capacity
If you're a person who hosts parties frequently, you'll need an ice maker with lots of capacity. Normally, an average-sized ice maker can make a batch of about nine cubes at a time. You can always refill it and make multiple batches.
However, ice makers have limitations on the number of batches generated by the machine every day. Hence, you'll need to find that out before you buy one to see if it fits your needs.
3. Freezing Speed and Quality
The processing speed of the ice maker and the ice quality is of utmost importance. You'd rather buy your ice than spend on a machine that takes forever to make one batch of ice.
Five to six minutes of processing time is ideal, but if you don't mind if your machine takes a little longer, go for it. Also, some machines have adjustments for the types and sizes of ice you want, while some don't. Check these details to be sure you get your favorite type of ice.
4. Accessibility
There are many accessible features in ice maker models which simply make life easier. For example, the self-cleaning feature. If you get hard water in your area or tend to use tap water for ice, then you should get a machine with this feature because it makes for easier and effective cleaning.
Apart from that, features such as automatic restart, vibrant LCDs, and flashy alert systems are great plus points in a model.
5. Energy Usage
You don't want to burn a hole in your pocket with your energy bills, right? Although ice makers do not use as much energy as refrigerators, some brands offer energy-efficient models as well. These machines optimize the energy they use, and also feature automatic turn off systems to make sure there's no energy wastage.
Best Home Ice Maker FAQs
1. Which Ice-Maker Is Fit for Outdoor Use?
Naturally, a highly portable and lightweight ice maker will do for outdoor use, but you actually need to decide according to the purpose of the machine.
Are you going to use your machine on a yacht? Or outdoor hikes? Or maybe as a move around the machine at parties?
If so, each of those purposes will require a different size and portability level. Thus, you must assess the weight and dimensions carefully when finalizing your purchase.
2. Why Do I Need to Clean My Ice Maker?
It's just water, right? What's the point of cleaning it?
Continuous exposure to water at low temperatures makes the machine accumulate harmful, putrid substances. Also, if you're using water with high mineral concentration, the build-up can harm your machine and make it produce smelly, unhealthy ice.
3. How to Clean My Ice Maker?
That's the tricky part. If you have a self-cleaning machine, then the ice maker will do the job for you. If not, the cleaning is fairly easy anyway.
Just empty all the contents, including the inner fitting like the tray and shovel. After that, fill it with warm water and clean it with a soft cloth. If there are stains, you can use baking powder or detergent to clean those.
Remember also to clean out the filters, if your machine has any, with a Q-tip or toothbrush.
4. Do I Need a Drainage Connection for My Ice Maker?
No, you do not. Most of the time, ice makers reuse the water from the melted ice to form new ice. If you do want to drain your machine, though, there's a plug at the bottom connected to the reservoir inside, which you can use to drain the machine above your sink.
5. How Are Storage and Production Capacity Different?
There's a slight difference in the storage and production capacity. Most of the time, the production capacity is higher than the storage.
However, your machine will stop making ice even before it has reached the production threshold if the storage capacity has reached to the maximum. The machine expects you to constantly remove and use your ice immediately.
Conclusion
Summing it all up for you, we reviewed the five best ice makers we liked most. For us, our top favorite is the Igloo ICEB26RR ice maker. It is expensive, though, so if you're looking for a low-end solution, the Tavata Ice Maker is an equally good option for buyers on a budget.
After all, the most expensive isn't always the one with the most features you would need. In the end, it all depends on what you need. Look closely at the points covered in the buying guide to make an informed decision for yourself.