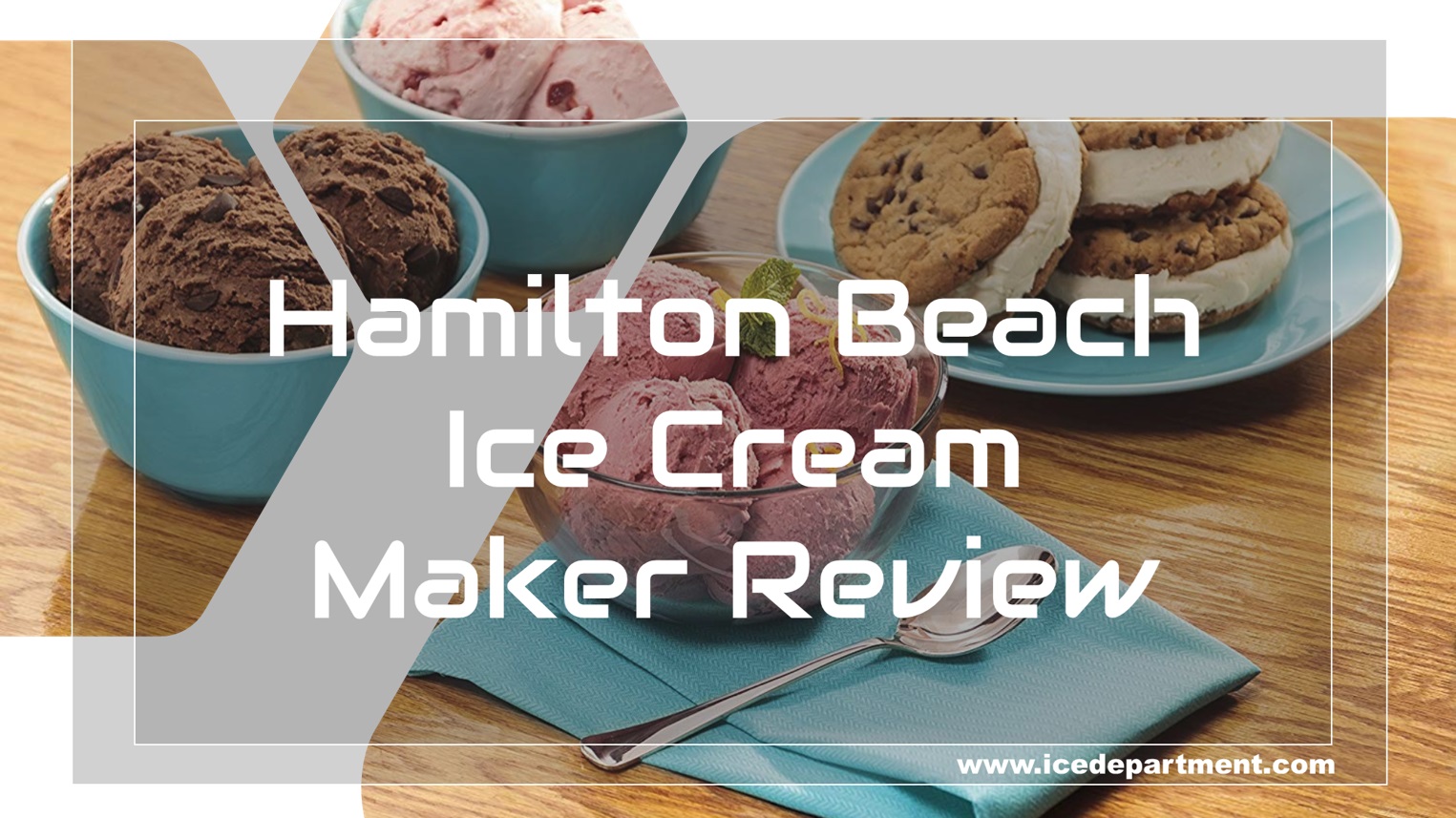 Just so you know, Ice Department is reader-supported. We may earn an affiliate commission, a share of sales or other compensation when you buy through links on our site. Read our affiliate disclaimer below in the footer.
Who doesn't like a nice ice cream treat? If you are following a strict diet or you are hesitant about the ingredients used in your food, you likely don't want to go out and get ice cream at the store. You don't have to since there are so many great ice cream makers you can use right at home.
How do you know which is best, though? Here, we review the Hamilton Beach 4qt.Ice Cream Maker, a great option if you want to make large batches or enjoy the process of making ice cream with your family.
Hamilton Beach 4 qt. Ice Cream Maker
Hamilton Beach is a well-known manufacturer of all kitchen appliances, ranging from popcorn poppers to hand blenders to hand mixers. Ice cream makers are just one appliance made by Hamilton Beach.
The Hamilton Beach 4 Quart Ice Cream Maker is a versatile product, allowing you to create your frozen yogurt, ice cream, sorbet, custard, sherbet, and gelato. It offers plenty of features that make it incredibly easy to use, even for those who have never made ice cream at home before. It basically does all of the work for you after you've added ingredients according to your taste.
Who Is This Product For?
This ice maker is really for just about anyone who wants to be able to make tasty frozen treats at home. The ideal consumer would be someone who wants to enjoy soft-serve ice cream at home or even keto ice cream.
With this product, you will always know what ingredients are in the frozen desserts you are consuming. So, it works well for anyone who follows a strict diet or has dietary restrictions but who still wants to enjoy a nice frozen treat like ice cream or sorbet. It is perfect for those who try to avoid sugar since you can control how much you add, if any.
This Hamilton Beach Automatic Ice Cream Maker has a large capacity and can make four quarts of dessert. This makes it a great option for anyone who needs to make desserts for larger gatherings or larger families.
What's Included?
Along with the actual ice cream maker, you also receive a recipe book that includes over 20 different recipes. These recipes are straightforward and easy to follow, making them an excellent option for those not as comfortable in the kitchen or with using appliances.
Overview of Features
This Hamilton Beach 4qt.Ice Cream Maker has plenty of attractive features. To start, it is fully automatic. You do not need to stir at all.
You simply add in rock salt, ice, and ingredients, and then the maker will do all of the work for you. It will even stop when your frozen concoction is ready.
The lid is easy-lock, so you won't be fidgeting with it. You simply put it right on top, and it will lock right into place with a simple turn.
There are over 20 recipes included with this Hamilton Beach ice cream maker. You can use one of those recipes to make a frozen dessert, or you can play around and create your own.
You can add ingredients such as fresh fruit, candy, or even cookies if you decide to come up with your recipe. The recipes included are quite easy to follow, even if you aren't accustomed to following recipes.
The biggest drawback with the Hamilton Beach 4qt.Ice Cream Maker is that it doesn't seem to last that long. Of course, its lifetime depends greatly upon the frequency of its use. It is something to consider, though, if you plan on making a lot of ice cream or you plan on making ice cream frequently.
Pros:
Large capacity

Potent motor 

Durable housing
Con:
Tutorial
This ice cream maker from Hamilton Beach is truly one of the easiest to use on the market, even if you are brand new to making anything in the kitchen. It seems like it was built with the beginner in mind.
Its use is intuitive and straightforward, and the purchase even includes enough recipes that you are sure to find something you'll like. However, you still might feel more comfortable seeing it in action before purchasing. You can do just that here.
Alternative
The one major drawback to this ice cream maker is the fact that it tends not to last very long. The longevity of the Hamilton Beach 4qt.Ice Cream Maker obviously depends on how frequently it is used, but if you are unsure if you want to purchase something without a guarantee that it will last, there are plenty of other options available.
You also likely want an ice cream maker with a strong motor since it will be churning tough ingredients, like ice. That said, you can easily find some of the top portable ice makers of 2019 in case you need one to pair with your ice cream maker.
Nostalgia PICM4BG
Moving on, one of these alternatives is the Nostalgia PICM4BG. It is an electric ice cream maker and also makes four quarts, similar to the Hamilton Beach option. The Nostalgia PICM4BG comes with an easy-carry handle and also does not require any manual effort on your part.
You also receive plenty of recipes with this ice cream maker, and it has a see-through lid, which means that you can watch your ice cream being made. The recipes with this model are also quite easy to follow.
The Nostalgia PICM4BG has no issues with longevity, even from those who use the ice cream maker frequently. It works really quickly so you can enjoy your treat fast and it has a locking motor mount.
The canister itself is aluminum and durable. You can even store leftovers by using the included lid cap and lid.
Conclusion
Hamilton Beach is well known for making all kinds of kitchen accessories, tools, and utensils. The Hamilton Beach Automatic Ice Cream Maker works quickly, incredibly easy to use, and quite versatile. Make anything from sherbet to custard to sorbet and of course, make ice cream right at home.
Use any of the recipes included or even play around and create your recipe. If you are hesitant to consume things with unknown ingredients or you are following a strict diet, using the Hamilton Beach 4 Quart Ice Cream Maker to make your ice cream at home might be a great choice for you.