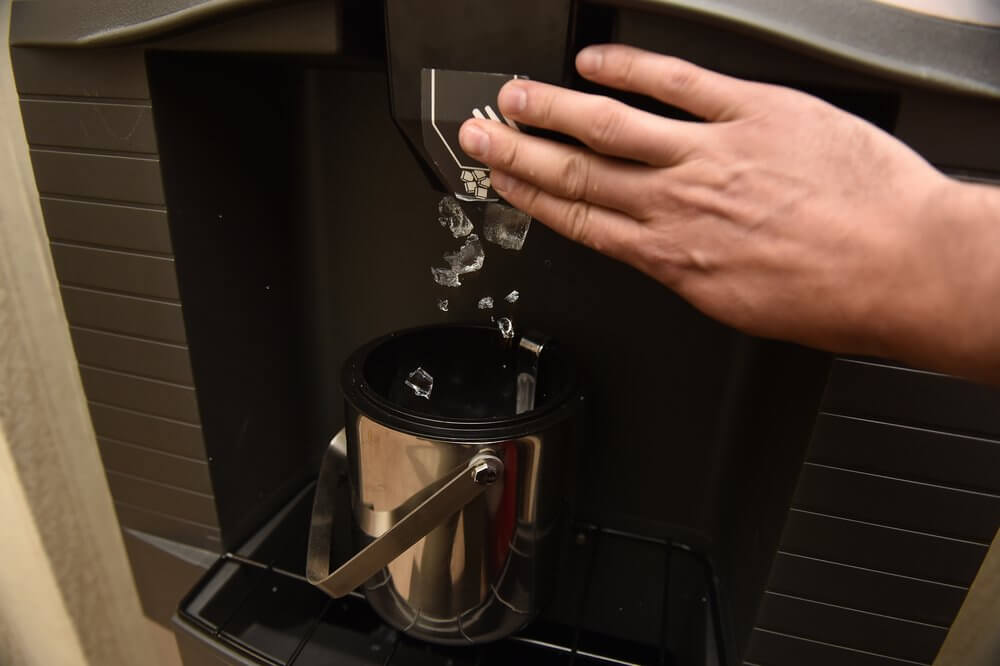 Just so you know, Ice Department is reader-supported. We may earn an affiliate commission, a share of sales or other compensation when you buy through links on our site. Read our affiliate disclaimer below in the footer.
Choices! Nowadays it seems like there are just too many choices. How are we supposed to choose between all the options and make sure that we are picking the right one that won't leave us with a pit our stomach knows as buyer's remorse? From cars to simple household appliances the process of purchasing the perfect one for your needs can be daunting.
In this guide, we are going to help you out with your ice needs by breaking down several of the best portable ice makers of 2019 for you. Our goal is that by the end of this article you can answer all your ice maker questions and maybe even be ready to make the leap of faith and purchase yourself a nice ice maker.
Comparison Chart
Frigidaire Portable Compact Maker
Magic Chef MCIM22SV 27-Lb. Portable Silver Countertop Ice Maker
Aicok Portable Ice Maker, 26lbs Countertop Ice Machine
Happybuy Commercial Ice Maker 150LBs
NewAir Portable Ice Maker 28 lb.
Best Portable Ice Maker Reviews
Frigidaire EFIC108
Frigidaire has been a reliable name in home appliances for decades and now they are in the countertop ice maker business. Check out the first entry n list and see why they still have it.
Review
When you are looking into any home appliance, fashion is not always a concern rather functionality and reliability seem to be high on the list of must-haves. With this ice maker, you get both a fashionable piece that comes in a variety of colors so that you can match your kitchen motif as well as an appliance built to be high performing. With this ice maker you get the following features as well:
Up to 26 lbs. of ice produced per day
Capacity to hold up to 1 ½ lbs. of ice
LED controls
Water reservoir with increased capacity (2.3 qt.)
Two ice cube sizes available
Easy operation with one button start
Built-in compressor cooling system (no chemical refrigerants)
Ability to recycle melted ice into the next cycle
Smart alarms and clock/timer built into the unit
Visibility of ice making process and levels with transparent window
With all these great features it is easy to see how this portable ice maker ended up on our list. The versatility and ability to personalize the appliance to your kitchen décor through the multiple choices of color available is a unique feature in the ice maker world. So, if you are a décor-conscious consumer, this ice maker could be the one for you. Along with the ease of use and the compact design, this ice maker can rapidly create ice that will make you the hero of the next party. No warm drinks for your guests.
Though this is a great piece of kitchen equipment it does suffer from a noise level that many find unpleasant and is constructed of plastic which means it may not last any longer than some of its counterparts. Even with these two drawbacks, this Frigidaire ice maker is worth the money.
Another longtime name in home appliances, Magic Chef brings us the next countertop portable ice maker on our list.
Review
The MCIM22SV is a compact, lightweight ice maker that has some great features built into it. Features like:
Up to 27 lbs. of ice made per day
2 sizes of ice cube available
A digital control panel
Ice level alarm
Boiled down to the basics, this ice maker builds its reputation with its rapid rate of ice production in the production capacity available to its user. There may not be a lot of frills, but in the end, the compact design paired with this ice maker's functionality means you do not need all these extra frills that some of its competitors have.
Now like with most home countertop ice makers, noise levels during the ice making process can be an issue for some. But in truth, you will run into this issue with most of the ice makers on the market. The only other constant complaint by users is that the ice created is soft ice. However, this can be fixed by lowering the temperature, so it is really an ice maker with few discernible flaws.
Aicok Portable Ice Maker
The mission statement for Aicok is that they are focused on creating high-quality home appliances that bring the family together. This ice maker will certainly do that!
Review
The Aicok portable ice maker is the next entry on our list and it comes with a whole slew of amazing features. This ice makes offer versatility and ease of use while maintaining a compact design. Check out all these features:
Visibility of ice levels and process through the transparent window
Water tank with large capacity (2.3 qt.)
Ice bucket that can hold up to almost 2 lbs. of ice
Ability to program ice maker ahead of time with a timer
Built-in the self-cleaning system
Multiple ice cube sizes available (S-M-L)
This ice maker ups the game with several of its enhanced functions. The self-cleaning system that only requires a little vinegar and a few pushes of a button is quite the addition. Making it easy to use and clean for the very affordable price tag is a winning combination.
Honestly, it is hard to find anything bad about this ice maker. If there was one thing that we could point to it would be that the ice scoop that comes included is quite small — and that it all. That drawback seems very small, but some may think that this is a major concern for us it was clearly not enough for us to disqualify this ice maker as one of the best.
Happybuy Commercial Ice Maker
Probably the largest of our ice makers on this list the Happybuy may seem to some an odd addition, but for a commercial portable ice maker this machine is the top of the line
Review
This under-counter or freestanding stainless-steel ice maker is perfect for a restaurant or store that is looking for a nice ice maker that is durable low maintenance. This ice maker comes with the following features:
Up to 150 lbs. of ice produced per day
Bin capacity of up to 29 lbs.
Quick ice making cycle (10-16 min)
Auto cleaning function built-in
Easy to use control panel
Enhanced compressor for better energy efficiency and low noise
Though most might have a problem with a 50-lb. ice maker being deemed as portable this unit is able to be built in or freestanding and comes on wheels so in essence, this is a portable ice maker. It cannot fit on your countertop but with its easy installation and enhanced insulation system, if you are looking for a more commercial solution to your ice needs or are running a small local store or restaurant this ice maker is a great choice.
Now for some this design for a commercial ice maker is much too compact meaning that the ice bin has a limited capacity, but if you are a small business or a someone who throws big parties this is a nice ice maker to have available to you.
NewAir AI-100SS
The last entry on our list is from NewAir, a company started 15 years ago in a garage. This small company that started with two products now has branched out to many other cooling appliances like this ice maker.
Review
The NewAir AI-100SS is an easy to use compact designed countertop ice maker that has a lot packed into a small package. Check out all these cool features:
High-performance compressor
Able to produce up to 28 lbs. of ice per day
No installation needed
Indicator gauges for water and ice levels
3 ice cube sizes to choose from
LED control panel that is easy to read and use
This ice maker from NewAir is built to make your ice-making easy and efficient while looking nice in whatever room you decide you want it at the time. With all the typical built-in alarms and indicators, it would be easy to say this is the same as the rest of the ice makers on our list (and on the market), but this ice maker has a few unique attributes that set it apart. The side drain that is built into the unit is one of those and something that could help make the maintenance of this ice maker a little easier on you.
There are some features that the team at NewAir left out that for the price tag could make some potential customers balk at making this their final choice. With the lack of a cleaning system, the fact that you need to clean it before use and what some would say is too much heft to make transport comfortable, this ice maker does have some issues that could be worrisome.
If you can overlook these drawbacks and focus on the functionality and attention to design, the NewAir ice maker may fit your need perfectly.
FINAL VERDICT
Now that we have reviewed some of the best portable ice makers of 2019, hopefully, you feel less overwhelmed and readier to make a choice.
After all, summer is coming, and you do not want to be holding the bag… the ice bag that is. Better than having to run to the store to make sure you have your ice stocked up and ready for those party is being able to simply plug in a machine, push a button, and have ice ready in just minutes. Cheers!