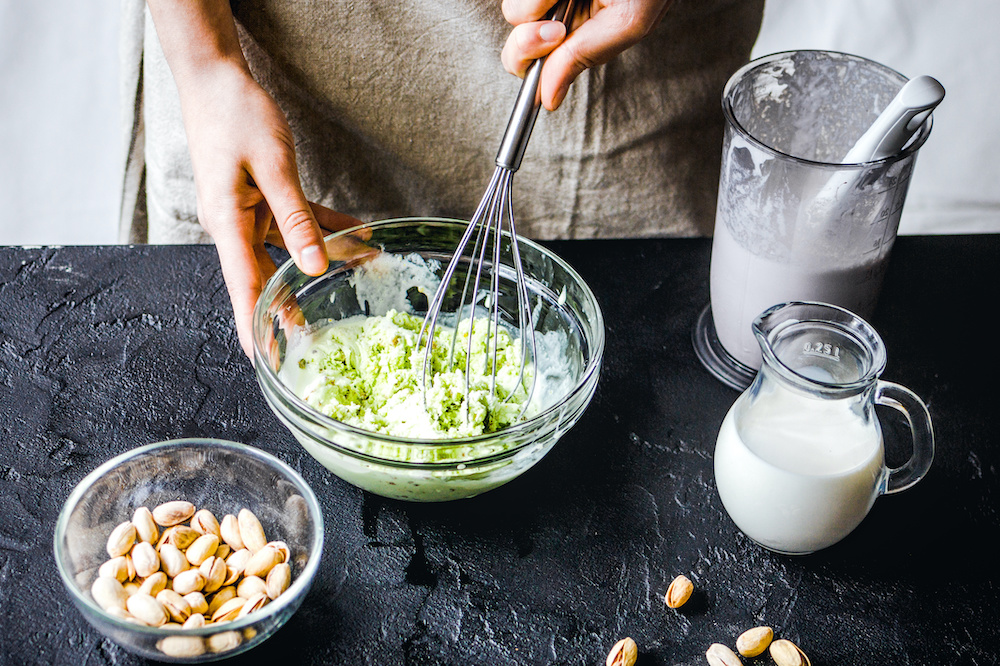 Just so you know, Ice Department is reader-supported. We may earn an affiliate commission, a share of sales or other compensation when you buy through links on our site. Read our affiliate disclaimer below in the footer.
What is ice cream?
Ice cream is a blend of sugar, cream, milk, and in some cases, other ingredients that, through some special methods, are frozen into a rich, soft, and creamy delight.
It's been popular for centuries and is served in millions of homes and establishments around the world.
Ice cream has become even more commonplace with the advent of refrigeration and other advancements in the ice industry.
Today, you can add your own personal touch to ice cream and even create or recreate some of your favorite flavors at home.
The immense popularity of ice cream has paved the way for numerous ice cream variations to enter the market, including organic, non-dairy, frozen yogurt, and frozen custard.
What is ice cream made out of?
Before we get to that, let's take you through a little history lesson.
Making Ice Cream Then and Now
To get a full grasp of how ice cream has evolved through the years, let's a look at where it is now and how it has made its way into our homes.
Ice cream makers, like the Cuisinart ICE-70 Electronic Ice Cream Maker, seem even more impressive when you consider ice cream's humble beginnings.
These frozen treats' earliest known versions were chilled wines and juices, which eventually evolved into fruit ices and frozen milk.
Today, with the ICE-70, you don't just get regular ice cream, you get an assortment of the most decadent frozen delights that include ice cream, gelato, sorbet, and frozen yogurt.
Plus, instead of a wooden or plastic spoon, this machine gives you a new and improved paddle that speeds up the entire process.
From the simple manual techniques used to create frozen milk desserts in the 13th century to the machine-driven methods capable of producing a myriad of ice cream flavors and variations in the 2010s, the industry has indeed come a long way.
Cuisinart ICE-70 Electronic Ice Cream Maker
To further this case is the ICE-70's other stellar features, like the three-setting control panel that allows you to adjust to different speeds, its LCD screen, and the countdown timer that shuts the machine off automatically.
The machine's ingredient sprout has an integrated measuring cup that makes the entire process more convenient and helps with any last-minute additions or changes to the ice cream flavor.
If you suddenly decide on a bit more syrup or just a tad bit more strawberries while the machine is running, then you should be able to do that without a problem.
The Cuisinart ICE-70 reflects the current state of the homemade ice cream industry with the following advantages and disadvantages.
Pros:
Fast processing time
Eco-friendly
Has a countdown timer with auto-shutoff
Cons:
The lid does not fit well
The machine makes a loud sound
What Is Ice Cream Made out Of?
Ice cream produced in the United States should contain about 10 to 16% milk fat.
Ice cream that has higher milk fat has a richer, smoother texture due to the lack of water and, therefore, no ice crystals in the mixture.
When ice cream contains milk fat that's below the 10% mark, it can then be referred to as "ice milk".
A more popular term for ice milk is low-fat ice cream.
Speaking of low fat, you can always go for healthier versions of your favorite ice cream by switching up some of the ingredients.
For instance, instead of using regular milk, you can go for organic or dairy-free milk.
A guilt-free substitute for regular homemade ice cream would be homemade frozen yogurt.
There's a wide array of ingredient options to choose from, not to mention the myriad of quality ice cream makers on the market that can help you create vegan and dairy-free alternatives.
Cuisinart ICE-45 Ice Cream Maker
One such ice cream maker is the Cuisinart ICE-45 Ice Cream Maker, which can help you whip up some nutritious soft serves if you're lucky enough to own one.
This ice cream equipment can make up to one and ½ quarts of ice cream, which is usually enough to satisfy your ice cream cravings.
If it's not, you can always make more!
This machine's lid is designed to remove and lock with ease.
It also has an ingredient window where you can pour ingredients like cacao nibs, chia seeds, and dried fresh fruits right through the top and witness the freezing process commence.
Healthy soft serves await you thanks to the ICE-45's unique mixing arm, which aerates and mixes ingredients in the bowl to produce rich and soft ice cream consistently.
It also comes with a dispensing bracket and a handle, wherein you pull the handle down to dispense the super-soft ice cream.
The Cuisinart ICE-45 has a double insulated wall that contains a cooling liquid to speed up the freezing process.
This double-wall also works to maintain an even temperature that gives the soft serves just the right consistency.
Pros:
Convenient easy-lock lid
Fast processing time
Creates delicious soft serves consistently
No chemicals required
Easy to clean
Cons:
Freezer bowl doesn't get cold enough
Sprinkler dispenser has a too-small opening
Removing the bowl can create a mess
Moving on to the other compositions of ice cream, aside from milk and cream, ice cream also has stabilizers, such as gluten, to ensure the mixture has a consistent texture.
Then, we have sugar or sugar substitutes that give ice cream its sweet flavor.
Of course, there's also the no-sugar-added ice cream varieties, which are really popular and depend on natural milk sugars and fruit to achieve their subtle sweetness.
A major reason why ice cream continues to remain popular with consumers lies in its assortment of flavors and additives.
Ice cream manufacturers have kept things interesting, and ice cream makers have helped keep that interest with their ability to broaden the possibilities on the kinds of ice cream flavors that can be produced and the ingredients that can be added to ice cream.
From unconventional flavors, like basil or coffee, to exotic fruits, like dragon fruit and papaya, countless ice cream flavors, ranging from sweet and bitter to spicy and unique, have been produced in the last few decades.
How Ice Cream Is Made
Placing a bowl of milk or cream in the freezer will give you a stiff, frozen liquid chunk and not the soft, creamy delight you're used to.
There's a lot more to ice cream than meets the eye, but you probably already knew that; otherwise, you wouldn't be buying ice cream from a store or using an ice cream maker to create these frozen treats.
There are special techniques involved in the production of ice cream that result in the creation of even tinier ice crystals and the incorporation of air, which creates a soft texture.
To ensure that larger ice crystals aren't formed in the mixture, ice cream has to undergo a constant churning motion.
Through this churning process comes the regular introduction of air that creates a foam-like texture and adds more softness into the mixture.
The ice cream making process sometimes involves the use of salt, which works to lower the ice's melting point.
Once the melting point of ice is brought down, the heat from the ice cream equipment is drawn out more quickly, resulting in a faster freeze rate.
Through a faster freezing process, the ice cream machine is able to produce smaller ice crystals that create a softer, higher-quality end-product.
One thing you need to know about using salt when making ice cream is that the salt doesn't actually come in contact with any of the ingredients and, therefore, doesn't affect the sodium content of the mixture.
Ice cream makers that make use of ice and salt in the production process usually have a chamber specifically for salt and ice that keeps these ingredients from being combined with the ice cream mixture.
We just can't get enough of the ice cream making process and have to talk about one of the latest ice cream machines to hit the market.
Yonanas 902 Classic Original Soft Serve Maker
The Yonanas 902 Classic Original Soft Serve Maker is absolutely outstanding in every sense of the word because it produces the most delicious and the healthiest soft serves you've ever sampled in your life.
Ice cream continues to be popular with consumers because the ice cream industry keeps things interesting.
New flavors are regularly introduced and, thanks to the advent of modern ice cream machines, are created at home for users to customize as they please.
People aren't just limited to producing regular ice cream; they're given free rein over the entire process and, hence, are able to experiment, explore, and produce the exact flavor they want.
Vegan and dairy-free alternatives can now be created at home thanks to Yonanas 902 classic, which is simple, easy to use, fun, and, as a feature that's every homemade ice cream maker's personal favorite, easy to clean.
This ice cream machine specializes in producing fruity flavored soft serves with a combination of other additives like chocolate syrup, cacao nibs, chia seeds, nuts, and more.
What's great about Yonanas is that it instantly churns fruits that are completely frozen to create a vegan dessert that's extra healthy and low on fat.
You don't usually expect frozen treats to be without any additional sugar, cream, or fat, but, in this case, you can make that happen.
A banana that's frozen can be turned into a soft, savory delight in mere seconds.
You simply need to push it down into the chute using the plunger, and voila!
To top it off, this machine's plunger, blade, and chute are all dishwasher-safe.
Pros:
Creates healthy soft serves
Easy to use and clean
Comes with a recipe book with 36 recipes
Cons:
Wastes fruit
Lacks power
Creates too much noise
How to Store Ice Cream
When transporting ice cream from the store to your home, make sure to keep it as cold as possible.
Once ice cream melts and refreezes, it'll no longer have the rich and creamy texture that you love.
The refreezing process results in the creation of large ice crystals that take away from the ice cream's soft texture, resulting in ice cream that's not only a hassle to scoop out but is also none too pleasant on your tongue.
Ice cream should be stored on your freezer's main compartment, preferably at the backmost portion, which is where the temperature is at its coolest.
Some people make the mistake of storing their ice cream in the door of their freezer, which repeatedly exposes it to warm air when the door is opened, subjecting the product to a defrosting and frosting cycle that does nothing except lower the quality of its texture.
Once the ice cream is opened, it can absorb rogue flavors and form crystals, which reduce the overall quality of its taste.
To prevent this from happening, press a piece of plastic onto the ice cream's surface and then place back the lid.
This creates a barrier that prevents moisture and air from entering the ice cream while it's in your freezer.
Also, ice cream isn't like wine that grows finer with age.
When you purchase a container of ice cream, you'll want to consume it within 30 days so that you experience the best of its texture and flavor.
What Does the Future of Ice Cream Look Like
New ice cream flavors are being introduced by manufacturers on a regular basis.
While that isn't really news to most consumers, the fact that among these flavors are the liquored-flavored varieties is quite a surprise, given what the industry went through during the Prohibition.
Final Thoughts
Put simply, ice cream is milk, cream, and sugar that undergo special techniques to create the soft, creamy delight we all know and love.
Ice cream can also have other ingredients and additives, have less or no sugar added, or contain a different type of milk or cream depending on its flavor or variety.
Unless you're asking what is ice cream made out of in the traditional sense or what a particular flavor or variety of ice cream is made of, then there's really no clear-cut answer for you.
There are thousands of flavors and additives, not including the special, custom flavors machines allow you to whip up at home, that to really know what ice cream is made of, you had to have been the one who made it or the one holding the recipe.