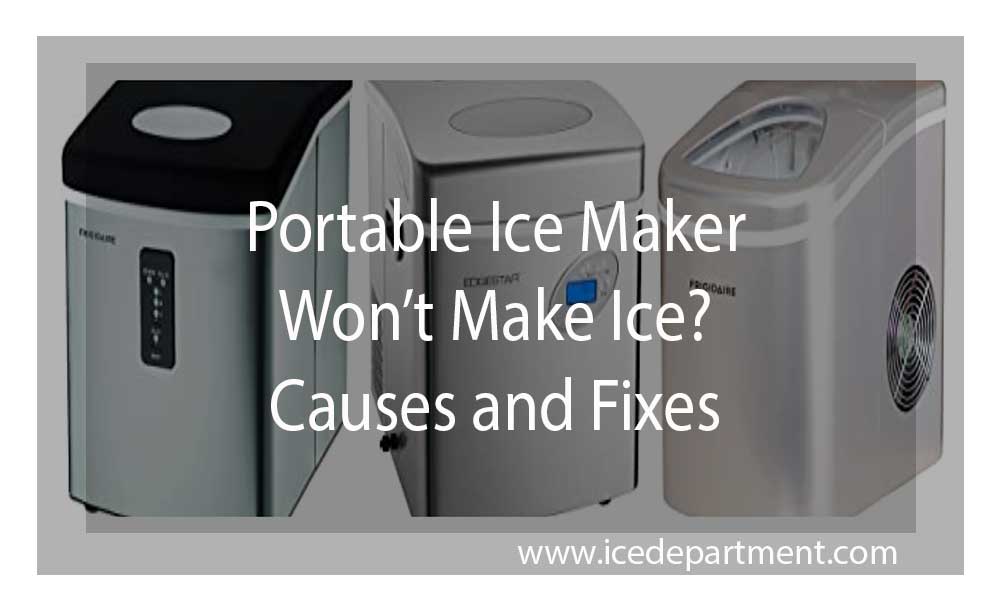 Just so you know, Ice Department is reader-supported. We may earn an affiliate commission, a share of sales or other compensation when you buy through links on our site. Read our affiliate disclaimer below in the footer.
Are you stuck in a position where your portable ice maker won't make ice? You're not alone, and although it can be quite a hassle, there are plenty of ways to troubleshoot the issue.
With the numerous types of ice makers on the market, you can guarantee each model has its methods of diagnosing and repairing the problem. However, most have a few essential parts that are the same across the board.
Ice makers, for many, are far more than a convenience, as they are used daily rather than for special occasions. Using this guide, you should be able to troubleshoot the problem with your ice maker before calling a repairman.
How Does an Ice Maker Work?
The best way to diagnose a problem with electronics is first to understand how they work. Ice makers, though incredibly convenient, are relatively simple in their design. Their entire job revolves around transforming water into ice at regular intervals.
Your ice maker will likely have a reservoir with a fill line, and this is where you're going to need to put the water that will turn to ice. Once that reservoir is full, and the lid on the ice maker shuts, you will hear the sound of rushing water.
This water is being brought to the refrigeration system where the cubes will be made and eventually pushed out into the ice basket.
For a more in-depth explanation, the process is as follows:
Step 1: Water travels to the refrigeration chamber and put into molds.
Step 2: Freezing prongs are inserted into the water inside of the molds and freeze the cubes around the prongs.
Step 3: The prongs then bring the ice to the front of the machine and either use air pressure or heat to release the frozen cubes into the basket.
Step 4: The user will remove the basket and use the ice, prompting the machine to continue making more.
Most ice machines will stop making ice once it reaches a certain level. For example, if the basket is full, your ice machine will know it doesn't need to make more ice. This determination is either caused by weight or if you have an ice machine with scanning capabilities.
Portable Ice Maker Won't Make Ice? Common Causes and Troubleshooting Tips
First, let's get into the most common reasons as to why your ice maker might not be making any ice or enough ice for your liking. With most households, it is commonly one of these factors, or it could be something a little more serious. Hopefully, you can resolve the issue with one of these troubleshooting tips.
1. Power On and Off
Much like any other type of technical advice, the first thing you should always do is make sure your ice maker is on. It's far too often that you might think it's making ice when, in reality, the power cord is tucked underneath the machine and not plugged in.
To check it is on, take a look at the indicator lights on the top of the unit to make sure the "Power" light is working.
Another issue that could occur in terms of power is your ice maker not getting enough of it. If you have a faulty socket in your home, any appliance plugged into that socket won't get enough power to work.
First, you will want to look at your user manual, as it will tell you how much power the ice maker needs. A great idea is to unplug the ice maker and try plugging in another kitchen appliance that you know works correctly. If it also experiences a lack of power, then the issue is with the socket and not the ice maker.
2. Water Levels
We all know the one thing ice makers need is water to make ice. With insufficient water levels, there's no fluid for cubes to form. It's also important to know that most portable ice makers don't have a reserve of water where the liquid is stored to make ice at a later date.
The best thing you can do is to take a look at the water levels in the appliance to see if they are satisfactory. You won't want to have too much water in the ice maker; otherwise, it will melt the ice already in your basket.
You certainly won't want too little water or none at all, as it won't form any ice. Instead, make sure the water is filled right to the fill line. Depending on how often you are using the machine, you may have to refill it one to two times daily, and this is especially true if you're having a party.
If you find that your appliance still isn't making ice and the water is at the fill line, you can continue onto the next troubleshooting step.
3. Full Basket
You might not think your ice maker is the smartest appliance in the house when, in reality, it is relatively "smart." Most of these appliances have technology built into them that lets them know when it's time to make ice. Otherwise, they would never shut off, and you would have an overflowing mountain of ice at all times.
Most ice machines have a way to measure the weight in the ice basket. When the bucket is full, it will stop making ice until the pressure lessens. This problem is, by far, one of the most common issues you can have with an ice maker not making ice.
Other more advanced appliances use visual cues to know when it's time to make more ice. These devices will keep an eye on the level of product that is stored in the ice basket so that if the amount drops below the desired level, it is prompted to make more.
Depending on the type of ice maker you own, it could be that it has already produced enough ice and is waiting for you to use some of it.
4. Room Temperature
All portable ice makers have refrigeration that helps to keep the ice frozen until it's needed. You'll also find it will have insulating properties similar to your refrigerator or a freezer.
Unfortunately, in some cases, the less expensive ice makers have poor insulation, which can cause your ice to melt before you get to it. This problem is particularly prevalent in the summer, as the warmer it is inside, the more likely your ice is to melt.
If you've been noticing that your ice maker is making far less ice than it does during colder weather, it could be because the cubes are melting inside of the unit. An excellent way to test this theory is to determine if the water levels in the reservoir are higher than usual, as this could point to melting ice.
You should also be able to see some cubes that are smaller than the rest or that look like they are melting. If this is the case, consider storing your ice maker in an area that is much cooler and shaded for optimal ice retention.
5. Water Temperature
Did you know that it can be quite a struggle for your ice maker to make ice from hot water? You'll find it will take substantially longer because the machine will have to cool the water down before getting it to its freezing point. You should never put hot or warm water into your ice maker, as it's only going to stall the ice-making process.
If the water inside of the reservoir is warm, remove it and try replacing it with cold tap water. At this point, your machine should find it much easier to make ice at regular intervals and with far less effort. This idea is also great to help reduce the amount of pressure the appliance is put under to help make it last much longer.
Less Common Troubleshooting Issues
If you've determined that none of the previously mentioned issues apply to your ice maker, you could be the victim of more "serious" issues.
These problems can still be diagnosed and fixed on your own without the need for professional help. They can typically be remedied in a matter of minutes so that you can get back to enjoying your chilled beverages.
1. Blocked Water Line
Every ice maker has a water line that brings water from the reservoir to the back of the unit where it is frozen and turned into cubes. Similar to a hose, if there is a blockage in this line, water doesn't move.
The best thing you can do at this point is to refer to your user manual and determine where the water line is. Remove the line and see if any sediment or particles is blocking the water's path. If so, use warm water to flush it out so that the device can continue making ice.
You may also find there could be ice trapped in the line, which is easily fixed with a hairdryer or by unplugging the ice maker altogether so that the ice can melt.
Repairing a blocked water line is exceptionally simple, especially as the only thing going through it is water. We recommend cleaning the cord over your years of ownership to help get rid of any minerals and trace sediment from the water you put into the ice maker.
2. Blocked Water Filters
With the same general premise of a blocked water line, you may also be dealing with filters that have sucked up a lot of sediment and minerals over the past few months. This issue is particularly prevalent in households that have hard water, as minerals are quite abundant.
The filters installed in your ice maker have tiny holes to catch these particles, but over time, they tend to build up. If you've never cleaned your ice maker before, it's a good idea to take a look at the water filters as well as the waterline if your machine stops making ice.
Cleaning the filters is as easy as using a delicate bristled toothbrush to scrape away any sediment. You can also soak them in vinegar or lemon juice to help dissolve any deposits away.
Ice Maker Issues for Professionals
Sometimes, even after our best efforts, tasks are better left to professionals. If you have gone through all of the possible issues your ice maker could be having and are left without an answer, consider professional help.
The most important thing to remember is that, at times, it's far more cost-effective to replace your ice maker than to have it repaired.
1. Water Pump Damage
With an ice maker that is used incredibly frequently, all of its internal components are continually working. Eventually, these components are going to fail. The water pump is one of the most used parts of an ice maker, which also makes it quite prone to damage.
Every time your unit makes ice, the water pump is responsible for bringing the water from the reservoir to the freezing chamber. If this part is broken, the water never makes it back to the frozen portion of the device. Unfortunately, there's no easy way to repair the water pump at home, and you'll want to seek out a professional.
Water pumps are also relatively expensive to replace or repair, as it's the workhorse of the unit. You might be better off opting for a new ice maker instead of paying to have yours repaired.
2. Leakages
If the water reservoir in your ice maker is leaking, this can typically be fixed with a little bit of glue or sealant. This reason could be why your ice maker isn't making any more ice, as a leak will mean the water is always below the required level. However, if your appliance is leaking a different substance, it's time to call for help.
On the back of your ice maker, you will notice compressor coils that are responsible for the refrigerant. Refrigerant is necessary to keep your ice maker cold and to make sure your ice can be formed. If you notice the coolant in your device is leaking, the compressor coils may need to be replaced.
At this point, it's a good idea to take a look at your warranty, as this is typically a manufacturer's defect and the company should cover any repairs. If you're outside of your warranty, you can opt for repairs, though a replacement may be more cost-effective.
Final Thoughts
There are many reasons as to why your portable ice maker won't make ice, whether it's improper refrigeration or leaking refrigerant. However, unlike other large appliances, there are only so many problems you could be facing.
As your ice maker is likely one of the most convenient devices in your home, it's best if you can repair the issue as quickly as possible.