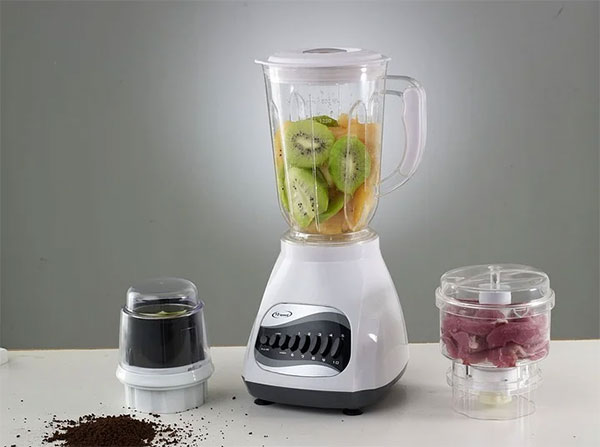 Just so you know, Ice Department is reader-supported. We may earn an affiliate commission, a share of sales or other compensation when you buy through links on our site. Read our affiliate disclaimer below in the footer.
Of all the kitchen appliances that exist, one of the most popular types has to be the blender.
They are the first utensil to be pulled out of the cupboard when you decide to go on a health kick, and a lot more diverse than they first appear when producing meals.
Despite common misconceptions, blenders are a lot more versatile than people think, and the majority of people who own blenders are yet to see the full capabilities of their blenders.
There are a lot of different companies that produce blenders, but one very popular option is the Ninja BL660 Professional Countertop Blender.
So today we'll be taking a deeper look at this product to try and find out why so many people purchase this specific one, and whether or not it is worth the cost.
What is Ninja?
But before we focus on this specific product, let's take a quick look at the company that produces it, Ninja.
Ninja is a bit different from some of the other companies that we have looked at in the past because it is actually a subgroup of a bigger company.
This larger company is known as SharkNinja and they are a US company well-known for designing, manufacturing, marketing, and distributing home appliances.
The name SharkNinja is actually a combination of two of their most popular lines of products: Ninja and Shark.
Ninja is primarily known for making kitchen appliances, such as the BL660 blender, whereas Shark is an extremely dominant brand in the vacuum cleaner industry.
They are a relatively large company, operating all over the world and producing products that have become household names since their original release.
So now that we understand a little bit more about the company that produces the BL660 Blender, let's focus on the product itself to find out more.
So with no further ado, let's have a look at what the Ninja BL660 Blender is.
As you had probably guessed by now, it is of course a blender that can be used to blend different ingredients together to produce a variety of different meals and drinks.
It is a powerful blender, with 110120 volts of electrical power, allowing it to blend lots of different things. It also measures approximately 8 x 6 x 17 inches (LxWxH) meaning that it can fit comfortably on your worktop without it taking up an excessive amount of space.
Its relatively small size also means that this blender can easily be stored in a cupboard during the time that you are not using it.
But let's focus more on the power of this blender. All blenders have to be fairly powerful in order for them to be able to crush the ingredients within it.
But you will find that the less powerful blenders take longer to do the job. This blender is capable of crushing ice cubes into a snowy texture within seconds which proves just how powerful it is.
This blender also comes with a variety of different attachments which make it a great choice.
When you buy this blender, you will get an 1100 watt base, a 72 oz crushing pitcher, and 2 16 ounce Nutri Ninja cups which can be converted into bottles as they come with lids.
This means that you can use the pitcher if you are preparing something for multiple people, but you can also use the Ninja cups if you want to prepare a smaller drink.
These options combine perfectly with the fact that this blender is of professional quality with the ability to match.
It has 3 different speeds, a pulsing option, and even a single-serve function which gives you lots of different options whenever you use this blender.
Now that we have an overview of what the product is, let's take a look at some of the advantages of the BL660 that make it so popular among consumers.
Ninja BL660 Buying Guide
Pros of the Ninja BL660 Blender
So now that you know what the Ninja BL660 Blender is, let's take a further look at all of the great features that this product has on offer.
After all, it is these features that make it such a popular option among the public.
The first advantage of this blender is how versatile it is. In the majority of cases, you can either buy a blender that is designed for single servings or you can get one that is designed to serve multiple people.
You will rarely encounter a blender that offers both in one, but the Ninja BL660 is one of these rare finds. This helps reduce waste by ensuring that you are only preparing exactly what you need and offers a lot more convenience when blending.
Another great thing about the BL660 is also associated with convenience, and it is the fact that you can prepare things in the blender ready to go.
Thanks to the Nutri Ninja cups that are included in the product, you can now prepare a smoothie on your way out of the door without any hassle.
You no longer have to prepare the smoothie in a blender then transfer it into a bottle or cup, inevitably spilling it all down the sides and making a mess.
No, with the Ninja BL660 you can prepare your smoothie in the Nutri Ninja cup then all you have to do is pop on a lid and you are good to go.
Additionally, if you hadn't already guessed, we love how powerful this blender is. Even though there are lots of different blenders available, finding one that is powerful enough to do all the jobs that you need to do can be hard.
In particular, we really like how quickly this blender is capable of crushing ice. If the blender is capable of blending rock-hard ice at speed, then it is definitely going to be able to blend a variety of other tough ingredients.
This is a very important thing in a blender, especially if you want to use it to prepare healthy smoothies as a lot of fruit and vegetables are very tough to get through.
This is partly thanks to the powerful motor, but also due to strong steel blades that are responsible for slicing through the ingredients during the blending process.
A final thing that we love about this blender is the fact that, said strong blades, can be detached which makes the cleaning process very easy compared to some of the other blenders that are available on the market.
But no product, no matter how good, is without its flaws, so let's take a look at some areas where the Ninja BL660 doesn't perform as well.
Cons of the Ninja BL660 Blender
Even though the Ninja BL660 is a great product overall, there are some things that we didn't exactly love about it. Let's take a look at what these were.
The first thing that we don't love about the BL660 is how noisy it is. Of course, all blenders will produce noise, and in general, the majority of blenders produce an excessive amount of noise while they are blending.
We totally understand this, but it is disappointing that such a great product is let down by the operating noise that it makes.
When you consider how great some of the other parts of the BL660 are, you would expect that the company would have made more of an effort to reduce the operating noise of the device.
However, it seems that this is something that Ninja has not focused on which is disappointing. As you expect noise when you are using a blender, this isn't enough to make the product a no-go, but it is quite annoying.
Another thing that we dislike about this product is that it has quite a complex design. This makes setting up the blender very difficult, and also means that dis-assembling it for cleaning isn't the easiest task either.
Of course, you expect that putting together a kitchen appliance isn't going to be the easiest job, but it is almost as if Ninja has gone out of their way to make the process difficult.
Again, this isn't enough to make the product bad, but it definitely is something that you should consider if you are thinking about buying the BL660 blender.
Finally, we thought that the appearance of the BL660 was quite basic. While there isn't much room for making a blender exciting,
Ninja only produces the BL660 in one color, and that color is gray. Of course, the appearance of the blender isn't the most important thing.
But nowadays a lot of people choose kitchen appliances that match the decor of their home, and by only offering one color option,
Ninja really limits the options. Yet again, this isn't enough to ruin the product, but it is something that can be quite frustrating.
Summary
In short, we think that the Ninja BL660 is a pretty great product, and we can see why it is such a popular option among people.
While it does have some disadvantages, these are generally just little annoyances and nowhere near enough to make this a bad product.
So if you are looking for a new blender and don't know which to choose, we would definitely recommend the Ninja BL660.