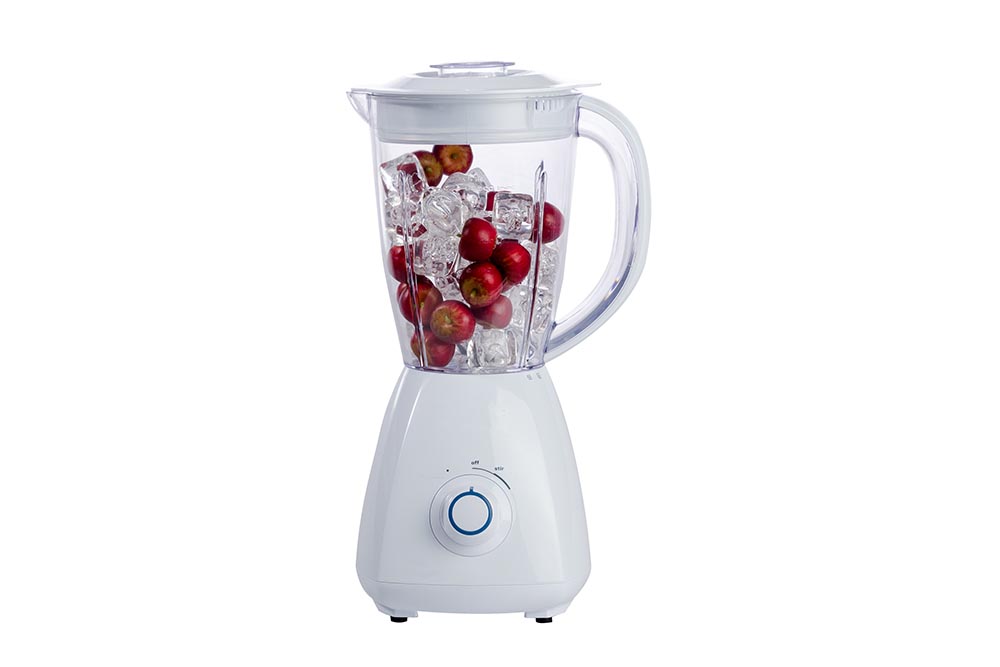 Just so you know, Ice Department is reader-supported. We may earn an affiliate commission, a share of sales or other compensation when you buy through links on our site. Read our affiliate disclaimer below in the footer.
Have you ever tried to crush ice in a blender that's not up to the job?
Let me tell you - it's not a good idea!
The blades start to dull, and the blender will last just weeks rather than years. And all that money you spent on a fancy new blender? Straight down the drain.
But don't worry, there's a solution at hand!
All you have to do is get yourself a blender that is purposely designed with ice crushing in mind.
That way you can ensure that you get a decent lifespan from your blender, no matter how much you use it for crushing ice. Moreover, it will save you from buying twice.
Lucky for you, we've been checking out some of the best ice crushing blenders on the market today, and after much deliberation we put together a shortlist of our top 5 favorites that we'd love to show you.
Our reviews on them are coming up very shortly, and after that we have a handy buying guide for you that will walk you through some of the key things to think about before you buy. You can use it as a quick checklist.
You might also want to stick around for our section at the end where we answer some of your most frequently asked questions on the subject.
And without further ado…
Now, this is a super powerful do-it-all machine!

It comes from a top brand in the industry, Ninja Foodie, and is super powerful at a whopping 1400 watts. Not only can it blast through your ice for you, but it can do a whole host of other things besides…

It can also be used as a smoothie bowl maker, a food processor, and even a dough mixer!
And let me tell you, there aren't many blenders that can also turn their hand to mixing cookie dough! You can also use it for making nut butters, or our personal favorite, ice cream!

This is all thanks to the 3 different vessels for the base, a power blender & processor pitcher, a smoothie bowl maker, and a nutrient extraction cup.

It's the most powerful blender that the brand owns, and it will smash through heavy loads without stalling or the need to shake or stir.
This is also thanks to the pulse technology, which can really get those ingredients moving and get those stubborn food items down to the blade.

It features 6 preset Auto-iQ programs for one-touch smoothies, spreads, bowls, chopping, and dough mixtures.
And you can even use it as a juicer to extract all the super important vitamins and nutrients from your fruit and veg.

Once you've set your pre-set program, you can then adjust the speed of the blending as you wish, using the dial at the front of the device.

You also get a free recipe inspiration guide with it to get you started.

And although this is one of the priciest ice crush blenders on our shortlist, it's still available at a fraction of the price of a Vitamix blender!

Pros:
Most powerful Ninja blender!
Great do-it-all appliance
Won't stall no matter what
6 preset Auto-iQ programs
Available for a great price


Cons:
Some customers have complained that it can be quite loud
What we love the most about this blender is just how easy it is to use!
It has a small, intuitive touchscreen panel at the front of the device on the base. You switch it on and then choose from just 4 pre-set programs. These programs include frozen drink, ice cream, smoothie, and puree.
Once you've chosen which of these settings best suits your needs, you can then choose from high or low settings, or a pulse setting.
We love the pulse setting - it's a great way of getting your mixtures moving so that all the chunky bits can get pushed down to the blades at the bottom.
It's very powerful at a whopping 1000 watts, and is able to blast through and crush your ice no problem at all. It's built for the very purpose of making frozen drinks, smoothies and ice cream.
And it comes with a large pitcher too, able to accommodate 72 ounces of food or drink. That's enough for 9 small individual drink servings (or just 2 large servings if you're really thirsty!)
If you click on "Check Price" and scroll down the product page, you will be taken to a handy chart comparing 3 different Ninja blenders.
Pros:
Intuitive touchscreen panel
Couldn't be easier to use
Designed for frozen drinks
Also has a pulsing function
Powerful 1000 watt motor
Large 72 ounce pitcher
Cons:
Please don't use abrasive sponges to clean the touchscreen panel, since this can dull or scratch the surface
What we love about this ice crush blender is just how powerful it is - it has a maximum power of a whopping 1800 watts. And this is how it's able to make such light work of crushing ice.
The motor is made from durable long-lasting pure copper, and the 6 blades are sharp enough to break through the cell walls of both soft and hard ingredients.
It's an all in one device, and in addition to crushing ice, you can chop, grind, blend, and emulsify your ingredients.
This means you can also use it for things like making frozen desserts and smoothies, making sauces, and even making humus. It just blasts those chickpeas into a smooth puree!
The jar has a large 64 ounce capacity, which is enough to serve up to 8 small servings.
And it really couldn't be any simpler to use. You just switch it on, and turn the dial to the speed you want.
And we love that it also has a pulsing function - it's great for getting more solid ingredients down to the blades!
Sure it's not from as well known a brand as some of our other top picks, but it comes very highly recommended by those who've tried it out.
The only real drawback is that it doesn't have pre-set programs for each type of food and drink. But that's not much of a set back, you just have to learn to adjust the speed accordingly.
Amazon occasionally has deals on this particular blender, simply click on "Check price" to see if there's a deal on now.
Pros:
Powerful 1800 watt motor
6 very sharp blades
All in one appliance
Has a pulsing function
Large 64 ounce capacity
Cons:
No pre-set programs
The price shoots up if you don't manage to catch one of Amazon's occasional deals, though it's still reasonable
If like us, you're a fan of the NInja brand, but perhaps are a little more budget conscious and don't want to pay the cost of the other Ninja ice crush blenders we've shown you, then this may be right up your alley!
It's available at a very affordable price, and has earned a full 5 stars out of 5 on Amazon - even after well over 17,000 individual customer ratings.
With a maximum power of 700 watts, it's motor is more than powerful enough to crush your ice.
Or to blend anything else. It's perfect for blending frozen fruit or veg, and extracting those all important vitamins and nutrients. Great for making healthy smoothies.
Plus you get to take those smoothies on the go, because it comes with 2 cups, complete with sip and seal lids.
But that's not all it comes with - you also get a recipe inspiration guide, which has 30 different recipes you can try out.
The jar has a modest capacity, at 16 ounces, which is enough for 2 small servings. It's what you'd expect for the bargain price.
And the plus side is that it means the dimensions are smaller, making it easier to stow away in your kitchen cupboard.
And that's not all - it also has pulse technology, so you can really get those ingredients moving and get those stubborn food items down to the blade.
We also love that the jar is dishwasher safe - super convenient.
Amazon occasionally has deals on this particular blender, simply click on "Check price" to see if there's a deal on now.
Pros:
Bargain affordable price
Powerful 700 watt motor
Take smoothies on the go
The jar is dishwasher safe
Has pulse technology
Cons:
Modest 16 ounce capacity - only enough for 2 servings
This blender comes from another top brand and has simply been flying off the shelves, selling in its thousands!
At first we thought that the high sales were down to the bargain price, but on looking at it, it's got a lot more going for it than just that.
It offers a full 700 watts of power, which is more than enough to blast through and crush up your blocks of ice!
And it can do loads of other things besides. It can dice, chop, grind, grate and puree. Which effectively means that it can double as a food processor as well as a blender.
It's very easy to use. There are basically 12 pre-set programs set across 4 buttons, and you simply choose the one that best suits the effect you want to achieve.
It has a medium to large capacity at 40 ounces, enough for 5 small individual drink servings.
It's very easy to clean - the jar, the blades and the lid are all dishwasher safe.
But it's stand out feature has to be the wave action system, whereby the mixture is continuously pulled down into the blades for better smoother consistency, free of any unwanted lumps.
And you don't have to remember to press a button for this feature - it does it automatically.
Pros:
Bargain affordable price
Comes from a top brand
Crushes ice with ease
Medium to large capacity
Pulls mixture to the blades
Cons:
You can't adjust the speed at all, unless you press a button for a different pre-set program
Best Ice Crush Blender Buying Guide
As promised, here's our buying guide!
Why you can't use a handheld blender
You will need to invest in a countertop blender if you want to crush ice, rather than a handheld immersion blender.
These handheld blenders simply aren't up to the job - they're not designed for crushing ice.
Not only do they not have enough power behind them for the motor, but their blades are neither big enough nor sturdy enough.
If you did try to crush ice with one, you would simply overwork the motor and dull the blades. And at the most you might only get a tablespoon's worth of ice.
Power
A blender's power, measured in watts, is the key spec to look out for in a blender if you want it to crush ice. Ideally, it will need to offer at least 600 watts of power, but preferably more.
If you tried to crush ice with a countertop blender with a that only had say 300 watts of power, you could technically crush a small amount of ice.
But you risk dulling the blade. So if you like to enjoy crushed ice frequently, you should instead go for a blender with at least 600 watts of power.
Capacity
We would argue that the bigger your blender's jar is, the better. That way you can serve more people. To serve up 2 smoothies, you will need a jar that can accommodate 16 ounces of food or drink.
Moreover, that way you can crush as much ice as you like, even if the ice cubes you're crushing are big and bulky.
Pulsing Function
We also recommend that you go for a blender with a pulsing function if you can.
Blenders with a pulsing function are more effective than their countertop counterparts when it comes to moving your mixtures down to the blades.
Value for Money
Although you will need a powerful blender, you don't necessarily need an expensive blender.
Some of the higher end brands will try to charge over $1000 for their blenders, but truth be told, you can get a decent ice crush blender for under $200.
Our recommendation when shopping online for ice crush blenders, or for anything else for that matter, is to check the prices as you go along.
That way you can learn what your money buys you, so you can make a good, well informed decision about what your budget should be.
Brand
As we've already mentioned you don't need to buy a super expensive blender to crush ice. So you can forget about Vitamix and the like, and concentrate on more affordable top brands such as Ninja…
Ninja has a huge selection of ice crush blenders and blender systems to choose from, and most of them are available for under $200.
We like the Ninja brand so much we included 3 of their blenders in our shortlist.
Quick Tip: If you don't decide to go for a well known brand, we recommend that you go for an ice crush blender that has at least 4 and a half stars out of 5 on sites like Amazon.
Frequently Asked Questions
What is the best blender for making frozen drinks?
To be honest all of the ice crush blenders that made our shortlist of top 5 picks all make great candidates for making frozen drinks…
But if we have to pick just one, it would be the Ninja Foodi SS351 Power Blender & Processor System.
We'd pick this one above the rest because it's the most powerful blender in Ninja's entire range at a whopping 1800 watts.
It can smash through your ice and other heavy loads without stalling or the need to shake or stir…
But that's not all. It can also be used for all manner of cooking preparations - even, would you believe it - for mixing dough. And it's available at an excellent price too - go ahead and check.
Can any blender crush ice?
I'm glad you asked this because the answer is a resounding NO. Only very powerful blenders that offer at least 600 watts of power can actually power through ice cubes to crush them down.
If you were to try to crush ice with a less powerful blender, you'll get hardly any ice at all, and you will start to dull the blender's blades.
This in turn means that you won't get the same lifespan from it, and before you know it, you'll have to replace your blender.
Can a 700 watt blender crush ice?
We are pleased to report that a 700 watt blender can crush ice, provided that it has adequate blades.
We even included two 700 watt blenders on our shortlist of top 5 picks, namely the Ninja Personal Blender and the Hamilton Beach Power Elite Blender.
And the added benefit of 700 watt blenders over their more powerful counterparts is that they tend to be available at a much more affordable price.