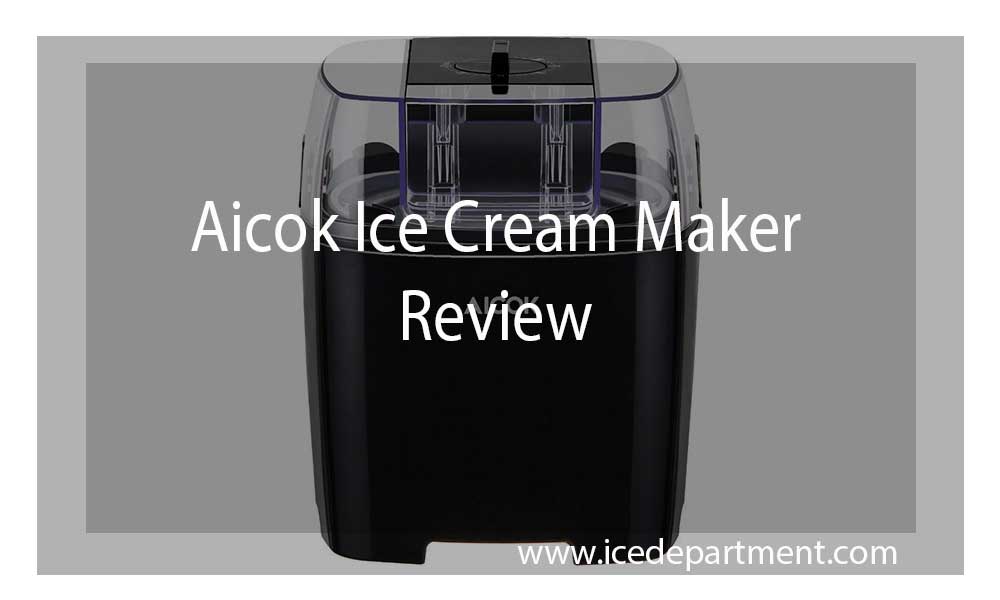 Just so you know, Ice Department is reader-supported. We may earn an affiliate commission, a share of sales or other compensation when you buy through links on our site. Read our affiliate disclaimer below in the footer.
Most people love a giant bowl of tasty ice cream. The only improvement is to be able to make it right at home. Being able to make your own ice cream can mean that you are better able to follow your own dietary guidelines, and you have no questions about the ingredients included in the making of your tasty treat.
There are so many ice cream makers on the market, so how can you tell the difference between a good one and a bad one? Here, we highlight the Aicok Ice Cream Maker for you.
Aicok Ice Cream Maker
The ice cream maker offers plenty of features that make it easy and quick to use, and it even accommodates a larger production. You can use this ice cream maker to make more than just ice cream. Whip up a tasty treat for you and your family or a full family gathering or special occasion.
Who Is This Product For?
This ice cream maker is ideal for anyone who wants to make ice cream quickly. More specifically, this works great for hosts and hostesses. Given that this ice cream maker will produce a frozen treat in just 15 to 20 minutes, a host can serve up a tasty dessert on very little notice without missing a beat.
This product is also really great for anyone who wants more control over the ingredients in the food they consume. Using this ice cream maker means avoiding unnecessary additives or empty calories.
What's Included?
Along with the actual ice cream maker, the product also comes with a recipe book. That book includes recipes along with tips and hints to help you make the best tasting frozen treat for you.
You also receive a two-year 100% satisfaction guarantee with this product. That means you are entitled to a refund or replacement for any defective product within the first two years following your purchase.
Finally, you also get customer service that is available to you 24 hours per day. This can be a huge benefit if you run into a problem operating your ice cream maker or if you just have a general question.
Even still, this is a great feature if you find you need a replacement ice cream maker. You can always count on reaching someone for help.
Overview of Features
This ice cream maker by Aicok holds a total of 1.5L. This is just large enough for entertaining purposes without being cumbersome if you wish to make a nice dessert for your family.
There is a large funnel for feeding in your ingredients so that you can add them in gradually without making a mess. The machine itself is quite easy to clean.
The mixing paddle can easily be removed, and the bowl is easy to wash by hand. The parts come apart easily, and they can be re-attached very quickly as well.
There are six recipes included with the ice maker, including strawberry ice cream, chocolate mint ice cream, vanilla ice cream, raspberry frozen yogurt, lemon sorbet, and banana ice cream.
There is also a timer right on top of the ice cream maker, and it will stop automatically when enough time has elapsed. You aren't restricted to the recipes included. You can play around with your own choice of ingredients to make your own treat.
One drawback to this ice cream maker is that it needs to be frozen the night before you plan to use it. While it works quickly at making the ice cream, if you have short notice of a party, you'll need to have left the inner bowl in the freezer for it to be ready for use. The mixing bowl needs to be totally frozen for you to use it effectively.
The positive is that once the bowl is frozen and ready to go, it takes nearly no time at all to create your frozen dessert. It is ready in 15 to 20 minutes in total.
Pros:
Easy to use and clean

Works quickly, if frozen ahead of time

Recipes included
Con:
The bowl needs to be frozen before use
Tutorial
If you are looking for a walkthrough on how to use the Aicok Ice Cream Maker, you can find one here. This ice cream maker offers usage that is pretty straightforward and intuitive, but it's still often easier to see it in action before you decide on making your purchase.
Alternative
The biggest drawback of using this ice cream maker is that the bowl must be frozen before use. While that is fairly standard for ice cream makers, it can still get in the way of impromptu ice cream-making sessions.
You really have to plan ahead if you want to make frozen yogurt, ice cream, or another frozen dessert. You may not always have that time included in your schedule.
You may want to just make your frozen treat on a whim, which you wouldn't be able to do with this ice cream maker. You also need to have enough ice available. If you are looking for a new ice maker, here are some of the best ice makers of 2019.
While it is pretty standard to need to freeze the bowl ahead of time, there are plenty of options on the market that don't require you to do this. Not having to pre-freeze can be a huge advantage.
Whynter Sno Ice Cream Maker
One ice cream maker that doesn't require a pre-freeze is the Whynter Sno Ice Cream Maker. This is a higher-end model of ice cream maker, and it includes some premium features. With that comes the ability to make ice cream without having to pre-freeze the bowl.
This model from Whynter stores easily, and you can clean it really easy as well. It has a relatively newly designed motor, which means that it will shut off if the mixture freezes solid, preventing any potential damage. It also offers a built-in timer.
Conclusion
The Aicok Ice Cream Maker is an excellent option for anyone looking to control the ingredients they consume. It is versatile enough to make several tasty frozen treats and easy enough to use that just about anyone can use it to make a dessert.
It also offers a great production size. You can either create enough ice cream for a large family gathering or choose to make just enough for you and your family. It is easy to clean and operate, and it offers reliable and durable use.